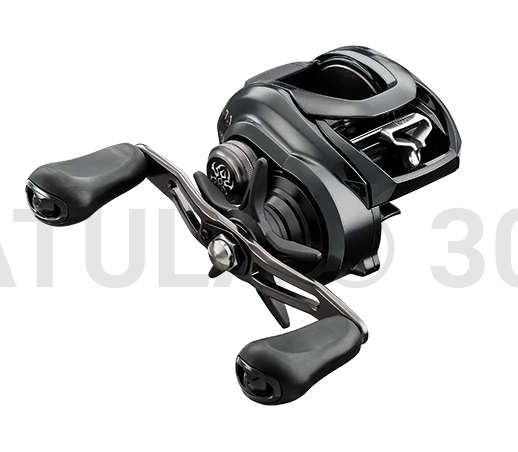 Daiwa Tatula 300
TTU300HS
Description
Just when you thought the in-demand Tatula reel family couldn't get any better, Daiwa unleashes the new Tatula 300, a true 300-size reel for throwing big bass baits. Daiwa's progressive product development team redesigned the new Tatula to bring anglers a slightly larger option perfect for a variety of applications including outsized, deep-diving crankbaits, swimbaits, A rigs, and more.  
In short, it's the perfect option for anglers fishing large presentations for even larger fish. What really makes The Daiwa Tatula 300 so special is the inclusion of the T-Wing System level-wind. When you take the reel out of gear it allows for less resistance on the line, allowing the line to cast further.
Daiwa's spool lets anglers finely tune the spool tension while the T-Wing System level-wind opens up line feed, working together to cast longer, more accurately, and provide stress-free control when chunking into the wind, skipping baits or casting large lures.
The T-Wing System is also very efficient at reducing backlashes on the 300-size reel with large spool. It does this by reducing the angle of the line coming off the spool and spool speed, providing efficient operation unlike anything on the market in this reel class.
The new Tatula 300 also features Daiwa's patented Magforce magnetic casting system which is located on the exterior of the reel making adjustments easy to make depending on wind conditions, the rods you're fishing, and overall aerodynamics of the baits you're throwing. Internally, the reel has much bigger gears for handing big baits and fish, necessitated by the aluminum frame which allows space for the larger gears in precise alignment, and subsequently, much more power and torque.
---
Share this Product
---
More from this collection